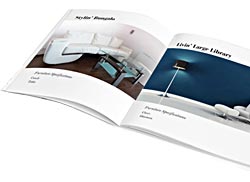 On this page you can calculate full color printed brochures connected with staple, glue or wire.
• Small and large print runs
• Formats from A5 to A3
• Up to 400 pages (with glue binding)
• Cover may be finished by laminating.
For 4,6,8-page brochures without stapple (booklets) please clisk here.
Other type or amount, please click here to get free quote.