Q: What kind of files do you accept?
Better way, if you sure that do everything correctly, send us print-ready high-resolution Pdf-files. Files must have a 3 mm (0.125") bleed and 3 mm of margins,should have a images resolution of 250..350 DPI at full print size, should be converted to CMYK (desirable according to ISO Coated v.2 profile (FOGRA 39) with TIL=300..320).
Also, we accept artwork in any popular DTP applications: Adobe InDesign, Adobe Illustrator, Adobe Photoshop, Adobe Framemaker, QuarkXPress and Corel Draw.
As well, we accept Microsoft Word and Microsoft Publisher Documents, but in some case may be extra charged for prepress.
Q: What is a bleed?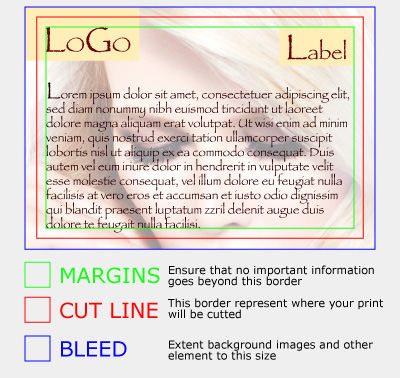 A bleed is a term that refers to the printed artwork that extends outside the trimmed edges of a piece. This ensures that the final product is not left with white edges that occur as a result of mechanical inconsistencies.
In the diagram, the background of the file would extend to the blue line (the bleed). The final printed piece will be cut at the red line. All information on the piece must be contained within the green line.

Q: What are margins?
Margins refer to what we like to call the "safe zone". Margins should be at least 3 mm (0.125") in from the trim line of the document. Keeping all information inside the margins is vital to ensure that nothing important gets cut off. (See the diagram above.)
Q: How to send a BIG file?
There are 3 ways to do this:
• First, you can upload it to our FTP-server ftp://ftp.moscow-printing.com (no password required, upload only).
• Second, you can use a UPLOAD FILES section on this website.
• And third, you can use any special websites, for example wetransfer.com.
Q: Can you deliver my order to location in Moscow / Russia?
Yes, we can arrange a delivery at any locations within Moscow city, Moscow region and Russia, Belarus, Kazakhstan and other CIS countries. Regular delivery in Moscow take one day. Shipping to other location will take 1..10 business days depended of location and rate.
Also we have air / sea freight options to most destinations worldwide for consignments from 500 kg
Q: We need to send our printed brochures to many different locations in Russa / Belarus / Kazakhstan
Yes, we offer mass mailing of printed materials. Distribution services are fully integrated into our print solutions for an efficient client experience.
Comprehensive warehousing
Hand assembly and kit building
Packing and logistics services
Working with freight carriers
Tracking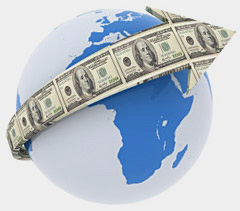 Q: How to pay?
We accept wire transfers in roubles (no limits), euro (minimum amount 500 euro) and US dollars and other currencies (minimum amount $1000 or equivalent).
Online payment with a credit card also available (processing with PayPal or local provider).
You can pay from any region of the World. All payments are processed in full compliance with the Russian laws.
Q: Should I pay in advance?
Usually we not require a prepayment.
Q: Paper weight/thickness in my spec. is measured in the imperial system, and I don't know the metric equivalent
In this Paper Weight Conversion Chart you can compare weight and size of various types of paper. Metric values on the left column are most common paper weights in Russia for that category.
Offset/Text/Woodfree/Uncoated, gsm to lb and pt

Metric Weight
Equivalent Weight
Caliper/Thickness
80 gsm
54 lb.
4,5 pt (0.042 in)
100 gsm
68 lb.
5,8 pt (0.058 in)
120 gsm
81 lb.
6,5 pt (0.065 in)
150 gsm
100 lb.
7,5 pt (0.075 in)
200 gsm
135 lb.
9,1 pt (0.091 in)
Coated/Art Paper, gsm to lb and pt

Metric Weight
Equivalent Weight
Caliper/Thickness
90 gsm
60 lb.
4,7 pt (0.047 in)
115 gsm
80 lb.
5,8 pt (0.058 in)
130 gsm
90 lb.
6,2 pt (0.062 in)
150 gsm
100 lb.
7,3 pt (0.073 in)
170 gsm
115 lb.
7,8 pt (0.078 in)
200 gsm
135 lb.
9,0 pt (0.090 in)
250 gsm
170 lb.
10 pt (0.010 in)
"Cover", gsm to lb and pt

Metric Weight
Equivalent Weight
Caliper/Thickness
170 gsm
65 lb.
7,8 pt (0.078 in)
200 gsm
75 lb.
9,0 pt (0.090 in)
250 gsm
90 lb.
10 pt (0.010 in)
300 gsm
110 lb.
14 pt (0.140 in)

If you can't find an answer to your questions, please don't hesitate to contact us!